Our top twenty films and shows include a variety of stories that encapsulate the Black diaspora. From the first animated film made entirely in Cameroon, to documentaries covering icons like James Baldwin and Grace Jones, to adventures through the wild, we have it all. Here are the top 20 titles on kweliTV.
1. PARIS BLUES IN HARLEM
Paris Blues in Harlem is the story of a young woman and her attempts to save her grandfather's failing Harlem jazz club. She has mere hours to convince her rigid elder to accept a realtor's briefcase with mounds of cash in exchange for his nightclub. But, as time runs out, he struggles to let go. With only a few seconds left, she is faced with a choice between legacy and money. Click here to watch!
The history of how Haiti won its independence, carrying out the first-ever successful slave rebellion. Click here to watch!
3. JAMES BALDWIN: THE PRICE OF THE TICKET
James Baldwin: The Price of the Ticket uses striking archival footage to evoke the atmosphere of Baldwin's formative years – the Harlem of the 30s, his father's fundamentalist church and the émigré demimonde of postwar Paris. Newsreel clips from the '60's record Baldwin's running commentary on the drama of the Civil Rights movement. The film also explores his quiet retreats in Paris, the South of France, Istanbul and Switzerland – places where Baldwin was able to write away from the racial tensions of America. Click here to watch!
4. GRACE JONES: BLOODLIGHT AND BAMI
Electrifying concert performances and intimate, personal footage showcase the life and talent of singer and actress Grace Jones. Click here to watch!
5. A TASTE OF OUR LAND
Set in an unnamed African country, A Taste of Our Land is a film about greed told against the backdrop of the current Chinese influence in African countries. While trying to provide for his pregnant wife, Yohani, an older African man, retrieves a gold nugget in a Chinese-run mine built on his land and runs away to sell it for $100. When he learns its real value, he becomes as obsessed with it as Cheng, the Chinese mine supervisor who will stop at nothing to get it back. Click here to watch!
6. MINGA AND THE BROKEN SPOON
A charming animation for the entire family, this African fable tells the story of Minga, an orphaned girl living with her stepmother MamiKaba and her stepsister Abena. One day, when she washes the dishes in the river, she accidentally breaks a spoon. A furious MamiKaba chases her away from the house, asking her to find the only identical spoon hidden by her late mother. An adventurous journey then begins for Minga in the forest. Click here to watch!
7. KHAYALAMI (MY HOME)
The premise of this documentary is self-discovery. It will capture the transformations I have gone through while living in America for the past six years. Juxtaposing the changes in Zimbabwe with my own personal changes will allow the audience to see my theme of acceptance. Click here to watch!
8. AFRO ALGORITHMS
This 3D animated short film in the Afro-Futurist genre explores topics of AI and bias. In a distant future, an artificial intelligence named Aero is inaugurated as the world's first AI leader. However, she soon finds that important worldviews are missing from her databank, including the stories of the historically marginalized and oppressed. A slate of well-known Black actors lend their voices to the film, including Robin Quivers, Ava Raiin, and Hoji Fortuna. Click here to watch!
9. A HOTEL CALLED MEMORY
Set and shot on location in Lagos, Cape Town and Zanzibar, the Nollywood film tells the story of a woman who has divorced her husband in Lagos and decided to travel to some parts of the world for self-discovery. Notable for lacking dialogue, it has been called "Nigeria's first silent movie." Click here to watch!
10. AKILI AND ME
Akili is a four-year-old who lives in the Savannah highlands in Kilimanjaro. Every time she goes to sleep, she finds herself in a magic world called Lala Land. With the help of her new best friends in Lala Land, Akili goes on adventures where she learns English words, how to draw, count, and so much more. Click here to watch!
11. 3 TEASPOONS OF SUGAR
In a household where meal times are a delightful feast full of bonding, fellowship & good eating, three members of this tight knit family are diagnosed with diabetes mellitus. 3 Teaspoons of Sugar chronicles their individual experiences living with diabetes – the highs, lows, defeats, victories and lessons. Inspired by true events and real people. Click here to watch!
12. COMING TO AFRICA
Adrian is approaching 40 and has spent his entire adult life with the mindset that climbing the corporate ladder is his sole priority. He has bought into the "American Dream" hook, line and sinker, and has been extremely successful in the corporate world because of it. He shies away from talk of responsibility to the Black community as he believes that the richer Black people become, the better off they'll be, and that's all that matters to him. He is poised for a promotion that will make him the first African-American Vice President in the history of his company.
Adrian's brother, Dennis aka Buck, is a barber who routinely holds community meetings in his barber shop and is fully engaged in the struggle for the liberation of Black people in America—when he's not running the shop. His other brother Adonis is a bus driver who has saved up for over a year for the perfect 10th anniversary celebration for him and his wife: a trip to Ghana.
However, on the eve of the trip, circumstances change and Adrian suddenly finds himself in the need of some serious soul searching, and what better place to do that than in Africa? Click here to watch!
13. BACK OF THE MOON
A powerful gang leader in a Johannesburg ghetto decides that he will fight to the death for his home rather than face police relocation, but fate thrusts a beautiful singer, whom he has loved from a distance, into his orbit. Click here to watch!
14. A KALABANDA ATE MY HOMEWORK
A Kalabanda is a mythical creature that is said to haunt schools in Uganda. Tendo, shows up to class one day without homework claiming that a "Kalabanda" ate it. Who'd believe such a lame excuse? No one! How will Tendo prove his story? The story brings a Ugandan twist to the popular excuse "a dog ate my homework. Click here to watch!
15. ANGELICA
Angelica, after a long absence from Puerto Rico, returns home when her father, Wilfredo, suffers a stroke. This unexpected return and her father's illness force Angelica to re-evaluate her relationship with her mother and family members who don't accept her because of her skin color. She must face herself and discovers that she does not know who she is. After her father's death, Angelica must decide whether to return to the comfort of her previous life, dissatisfied, but secure, or set on an adventurous path to rediscover herself as an independent, modern, strong, black, and Puerto Rican woman. Click here to watch!
16. THAT'S WILD
The award-winning feature documentary That's Wild tells the inspiring journey of three teenage boys from Atlanta attempting to climb four 12,000 ft snowcapped peaks in the heart of the Colorado wilderness, all while overcoming their own personal mountains. Click here to watch!
17. PEANUT HEADZ: BLACK HISTORY TOONZ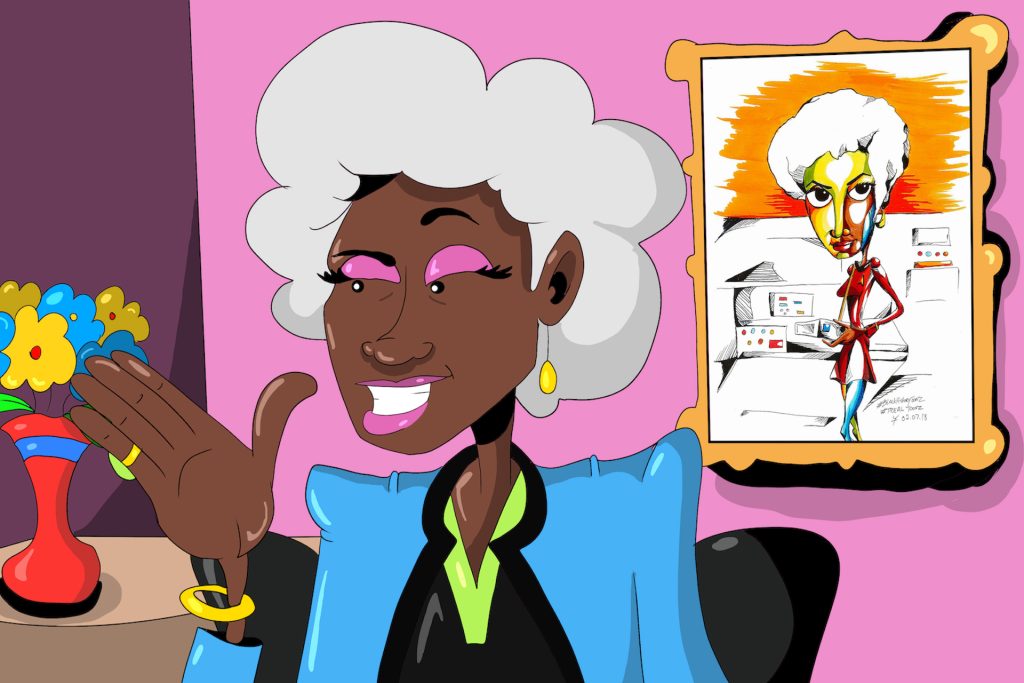 History is always happening! And the Treal Toonz's "Peanut Headz" have got you covered when it comes to sharing quick bits of Black History on people, places and things! Click here to watch!
18. EXCEPTION TO THE RULE
Ramona is having a hard time finding a meaningful relationship with a man that gives effort. After three failed attempts and a catchy podcast, Ramona decides to seek revenge on her next prey Shaun. Throughout their games, Ramona and Shaun develop an irresistible connection for one another; but unfortunately, their games get the best of them. Click here to watch!
19. BINO & FINO
Bino and Fino is a cartoon series about a brother and sister named Bino and Fino who live with their grandparents 'Mama' and 'Papa' in a modern day city in Africa. Bino and Fino have many adventures where, with the help of their friend Zeena the Magic Butterfly, they discover and learn things about the world. Click here to watch!
20. BLACK ARCHAEOLOGIST
In The New Adventures of the Black Archaeologist, he uses a time machine to visit the greatest black leaders and civilizations in history. Click here to watch!
Catch all these titles and more streaming for the culture on kweliTV.