kweliTV is all about uplifting Black stories, and that extends beyond the streaming service. kweliGIVES is an initiative that gives back to the community. Subscribers send in different Black lead non-profit organizations to nominate. After the list is narrowed down to five contenders, subscribers vote on which organization will receive a donation from kweliTV's subscription revenue for that year.
This year's recipient is the Detroit Black Community Food Security Network! We chatted with board president Shakara Tyler about the organization's goals, plans and outreach within the Detroit area.
Q: Can you tell me a bit about yourself and your organization?
A: Sure. I'm Shakara Tyler and I'm the board president of the Detroit Black Community Food Security Network. We are transitioning to being called the Detroit Black Community Food Sovereignty Network. We work to build self-sufficiency and self-reliance within Detroit's Black community using food and farming as a tool of community self-determination. We believe that our agrarian legacies are really important to how we conceptualize Black liberation. So we center what some people call food security and more importantly, what we call food sovereignty as a way to build self-determination and ultimately, Black Liberation throughout the African diaspora. We have a number of programs that work on that level.
We have a number of programs within that frame of building food diversity within Detroit's Black community and overall the city of Detroit, but our very unapologetic emphasis is on Black people in Detroit given the vast food inequities, which is targeted towards Black people, not only in Detroit, but because we live here, we want to focus on our target populations. We have a seven acre farm where we grow over 30 different varieties of fruits and vegetables. It's called D-Town Farm, possibly the largest urban farm in the state. And at the farm, we have a rainwater retention system where we collect rainwater and use that to irrigate our crops. We have a solar power station, where we generate eight kilowatts of solar energy that we're working to distribute throughout the farm. We have three hoop houses for season extension so we can extend our growing season on both ends the beginning and the tail end when it gets cold again in the winter, and we have a volunteer program where people come out to the farm to learn how to grow food and really just to be together. It's not just a farm, it's a community gathering space where we can share stories and share recipes and so on. It's a pedagogical space that builds community and builds solidarity within our community.
We also have a youth development program called the Food Warriors program that's led by Mamma Hanifa, our education outreach director. This program targets K-12 and is generally where we do nutrition education, gardening, cultural education focused on Black agrarian historical figures and Black agrarian contemporary figures as well. And we also have a food cooperative that's in the process. We're about to break ground on building their brick and mortar. We plan for the food cooperative to fully be open for business sometime in 2023.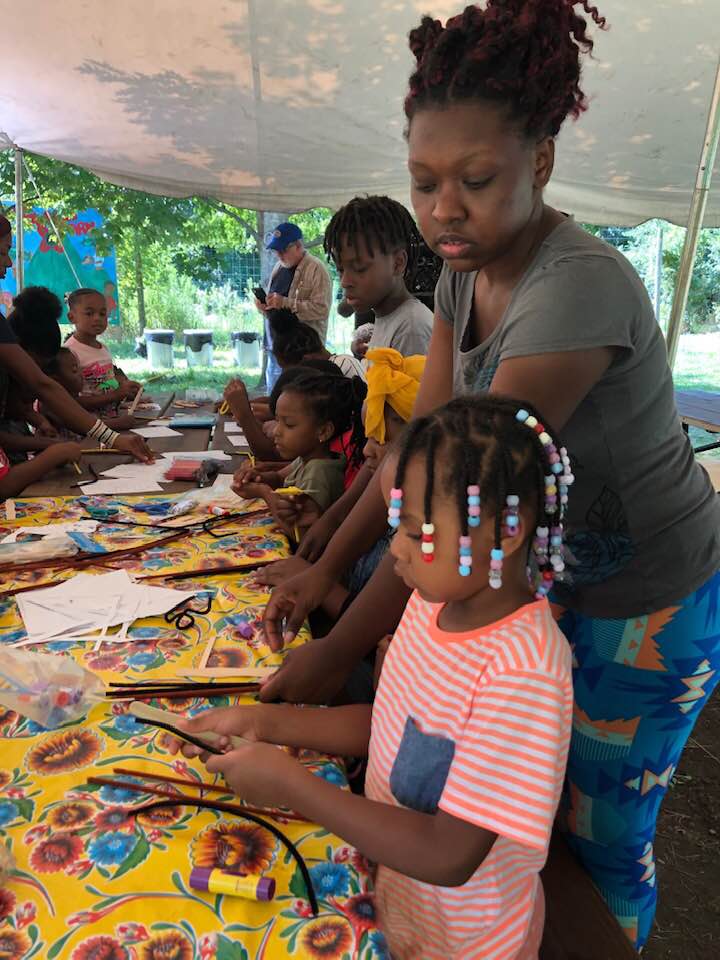 Q: How did you find out that you were nominated for kweliGIVES?
A: I got an email from our director of operations. And I think you all sent an email to our general organization or email and then our Director of Operations. Mama Bridgitte sent it out to some staff and some board members, sharing that we were nominated. It's an enormous pleasure and honor to be nominated for our work because we deeply care about building food sovereignty in Detroit and beyond. So we appreciate your support.
Q: What impact do you want your organization to have on the Detroit area?
A: We're a base building grassroots organization that believes in the self-determination of Black people first and foremost. In the midst of the ongoing traumas and violence that are imposed upon us — that's been centuries long, and so on — we believe in holistic healing and liberation and freedom for Black people. I know we can get into all kinds of definitions of what those things mean. Ultimately, we want to define our reality, name ourselves for ourselves, build our community and live as we were intended to live through our ancestral visions.
Food sovereignty is ultimately about taking back our power within the food system where we have more control over how our food is grown, who produces it, how it is distributed, how it's processed and how it actually gets to our stomachs. We work very avidly to gain more control over the water systems or the seed systems, the inputs into the soil to grow the food. Every aspect of the food system we're working is to gain more control over so that we're less dependent on the systems that exploit us.
Q: How was food insecurity affecting the Detroit area to the point where you felt your organization needed to intervene?
A: Detroit has been defined as a food desert; what some people call a food desert and, more accurately, we call it food apartheid, because this is a very intentional, strategically constructed system, that is rooted in capitalism and racism in ultimately white supremacy. We fight back against food apartheid, by creating food havens or food and food accessibility, where it doesn't exist in the city. There are very few grocery stores within the specific parameters of Detroit proper, and many of these grocery stores that do exist in the city don't have high quality food that's readily accessible specifically to Black Detroiters. So it's a very strategically constructed system where people of color — and speaking of Detroit proper as a majority Black city, Black people — do not have access to high quality affordable accessible foods. This is what we're addressing with our work and this is what we are not only responding to, we're dismantling the old as we build the new, we're dismantling these food oppressions as we build the food and liberated society that we envision.
Q: What are some of the projects that your organization is currently working on?
A: So I mentioned D-Town Farm, which is our seven acre farm in River Rouge Park. We have the Food Warriors Youth Development Program that is currently being held in two sites across the city, Barack Obama Leadership Academy in the shrine of the Black Madonna. And we have the Detroit People's Food Co-Op. That's currently about to break ground to build a brick and mortar that will be a full-service grocery store, along with a commercial kitchen community gathering space and a few other assets that our community would need. We also work sort of indirectly now with the Detroit Food Policy Council. We helped found the Detroit Food Policy Council and we work with them on several initiatives when they come up. We're also a co-founder of the National Black Food Injustice Alliance and we're a part of many, many other national alliances like Climate Justice Alliance and so on. So those are all our programs.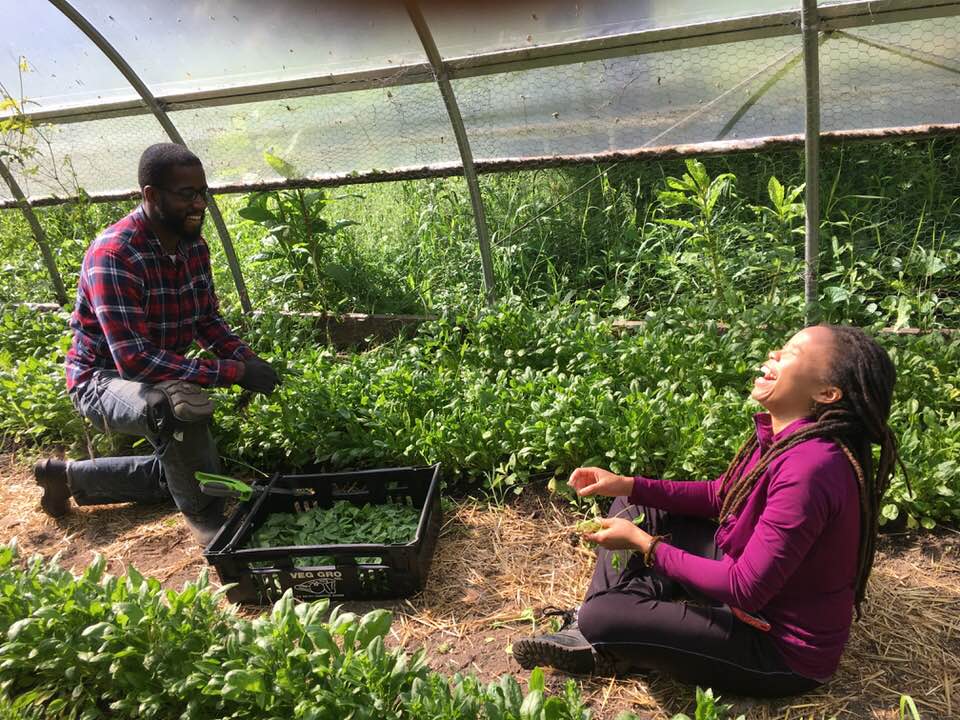 Q: I love that you're focusing on Detroit, and then you're also connected with other organizations. Is that another important way for people to give back? By connecting with other organizations that are aligned with what your mission is?
A: Yes, for sure. We collaborate with many other urban agricultural organizations within the city. And we believe in lifting them up as we are being lifted up as well.
Q: Is there a way for a wider community of people outside of Detroit to support you?
A: Well, donating is always a wonderful way to support us, because there's a vast funding disparity within nonprofit communities, where predominately white organizations are funded more frequently and with higher amounts of money compared to people of color organizations, in particular Black organizations, predominately Black organizations. Donating [will allow us to] continue to do the work that we do is really important. And also sharing our work on social media goes a long way. Yeah, I will say those two things are really the primary ways to support.
Q: I saw on the official website, it actually mentioned other projects that were happening in Detroit, but they weren't focusing on the Black-need aspects. So why is it important to have Black-lead organizations addressing Black issues?
A: Right, yeah, this is a really important question. Thank you for asking that. Detroit is a majority Black city, and the Detroit Black Community Food Security Network was founded out of the need for Black people to be in the leadership of solving our own problems or being in the leadership of addressing these societal inequities. We felt the need to do the work. We started doing the work that we were doing back in 2006 because of the large amount of white people that were moving to the city and getting involved in the food justice/food security movement at the time. They had well intentions, and it's very problematic still at the same time that they would be in the leadership in the majority Black city working to build food justice. We believe that those that are most affected by the problem should be in the leadership of solving those problems.
We very unapologetically reclaim our Black agrarian legacies and solve these problems because we know that agriculture is an asset within our knowledge base within the African diaspora, which is why we were stolen from our African villages back in the 15th century, and brought here to Turtle Island to be enslaved and build up the agricultural empire that we see before us today. We build through sovereignty within our communities as Black people that are violently victimized within this systemic oppression of the food system. And we build the realities that we know can be.
Q: With the funds that are gonna be provided by kweliGIVES, what do you plan to do or expand with the organization?
A: ​​We have no shortage of work. We have no shortage of work. That needs more funding support. So we're definitely going to put that money towards supporting our thing. Purchasing farm supplies for the upcoming growing season, and so on.
Q: How big is your staff? How many people do you work with whether it's on staff or volunteers?
A: So we have five staff members and we're currently hiring for two more full time staff, staff members and two part time staff. We're a small, fairly small organization that's working to grow with more funding to support.
Q: For people who see injustices like food insecurity in their own communities, do you have any advice on how they can get involved or start something similar to what your organization is doing?
A: One of the most important things is to find other people that are doing similar work as you. I think a lot of us are doing work that we can collaborate on with other people and it's really important that we work together and not work in our silos or work individually, because the work that we can do has more of an impact and we're united. Find other people that are growing food and building community gardens, starting farmers markets, starting food policy councils and their cities and so on. All of those things that I just mentioned are really important too, because building local food policy is extremely important for food security. And overall food sovereignty within cities.
Also, starting youth development programs are really important because we have to begin to work with the youth, help youth from ages from birth really to adulthood, to reconnect with their food, so that they don't understand that food comes from a can or a package. They should know that the food comes from the earth and so that starts at a very young age. Build power through cooperative economics by food cooperatives, grower cooperatives, just cooperatives at every aspect of the food system is really important as well, because cooperative economics is really the only way that we can be capitalism at its own game, that we pull our resources together and work as a collective, as a group, through cooperative economics. We actually have a chance at building economic self-reliance for ourselves, for Black communities.
kweliTV is committed to giving back to our community and supporting those that do the same. Together we can build a strong foundation where we all can grow and flourish.